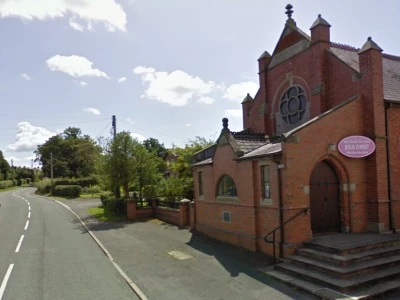 The Peters Memorial Chapel is in the village of Tallarn Green, which is located within the Wrexham County Borough, Wales. The present building dates from 1887, but has been continually expanded and modernised to meet current needs. We have our own car park, sports field and burial ground.
Our mission is to maintain a Christian witness and support within the local and wider community.
Chapel services are held every Sunday at 10:45am (2nd and 4th Sundays) and 6:30pm (1st, 3rd and 5th Sundays).. Visitors are always made welcome.
Sunday school and crèche facilities are provided during the morning service.
YOUTH CLUB! We hold a Youth Club on Friday evenings 6-8:00pm in School Term Times, with many activities and an annual Weekend Away – usually in May.
The building is also used by the Borderbrook School for services at Christmas, Easter and Harvest. If you wish to book the building for an event, please contact David Paton Associates – 01948 770687
Everyone is welcome to our chapel services and social events, including former members of St. Mary Magdalene, Church in Wales.
We maintain strong support for the Romanian children's charity .
For more information about Chapel Activities – including our Lent Lunches and other occasional events and meetings, contact our Minister Donna Broadbent-Kelly on 01948 663936 or Steward Doreen Manning on 01948 770667.