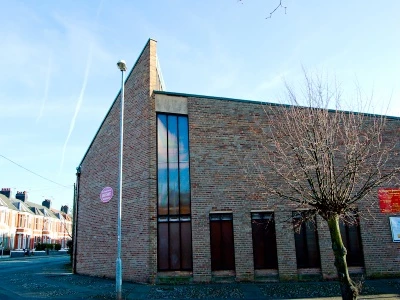 St Stephen's mission is to serve Christ in our neighbourhood. We are seeking to grow local links, as well as being host to community activities. We believe Jesus is Good News for all, offering Forgiveness for the past, New Life for the present, and Hope for the future.
Sunday morning worship, at 10.30am happens in a variety of styles, with occasional Parade and Make4Jesus (Messy Church: all age, with craft and eating activities) services . As part of morning worship, the J-Team meets, with separate groups for children. Typically about 55 to 60 people attend.
Sunday Evening worship, at 6pm, is smaller, with a strong sense of oneness in Christ.
During the week (see below) there is a range of Church groups and activities for all ages!
We welcome enquiries from people/groups wishing to use the building. Please contact the minister.
Our Church Weekly Programme
Sunday
10.10am Prayers before worship
10.30am Morning Worship
10.30am J-Team for children and young people
6.00pm Evening Worship
Monday
1.30pm Prayer meeting, contact minister for location
6.00pm Go For Gold! A club for primary school children
7.30pm Wesley Guild, an adult fellowship meeting
Tuesday
5.30pm Rainbows
6.00pm Brownies
6.00pm Guides
Wednesday
10.00am Gossip the Gospel (occasional) informal bible study
2.00pm Communion (1st Wednesday only)
2.45pm Ladies' Guild, (1st & 3rd Weds) an adult fellowship group for ladies
Thursday
10.00am Parents & Tots (ends 11.30am)
10.30am Prayer meeting, contact minister for location
7.30pm Bible Study (fortnightly)
Friday
5.45pm Beavers
6.30pm Cubs
7.00pm Scouts
St Stephen's is now home to 'Little Tigers Preschool, After-School & Holiday Club' which uses the church premises Monday through to Friday each week. The group is run by Katy Beech – 07718073768. Please contact 01270 569883 or 07525 484974 or see Minister
or see http://www.littletigerschildmindingservice.co.uk/default.html for details
Please note: some of these activities are seasonal, and some are ran by organisations outside the Methodist Church.