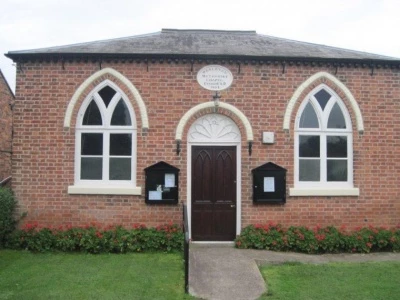 POOLE METHODIST QUIET GARDEN AND LABYRINTH
The small Methodist Chapel has been there for over 175 years. It is one of the oldest chapels in the Cheshire South Methodist Circuit.
We have created a community Quiet Garden at the back of the chapel which is open all year round. It is affiliated to the Quiet Garden Movement and advertised through them. It is advertised on the tourist trail in Nantwich as a place to visit.
The quiet space and Labyrinth can be used by individuals and Groups and also local school children.
The Garden has different areas within it for Plants, Sensory and Healing plants; there is a Water feature and sun-dial as well as seating. There are a variety of Christian symbols.
The Quiet Garden and Labyrinth is a spiritual area which aims to help adults and young people understand and experience spirituality.
There will be opportunities for learning and inter-action.
As this area is outside, it will be open 7 days a week. It also speaks to people in a spiritual way and provides opportunity for prayer, reflection, silence and the appreciation of beauty.
We have used local labour and volunteers to help create and maintain the garden. We have formed a group of people who will act as Friends of the Quiet Garden and support it.
We believe this will be a community asset in the area and one which is unusual but will reflect the peace and calm felt in the chapel in Poole and help us keep the chapel alive to help us reach 200 years of witness.
Services are held fortnightly at 4pm. They take the form of meditation services – you would be very welcome to join us on the 2nd and 4th Sundays of the month (outside in summer).
Friends of the Quiet Garden
You may like to become a friend of the Quiet Garden. We intend to send out occasional newsletters and notices of events etc.
Thanks to Cheshire East, Worleston Parish Council, St Oswalds & the Methodist Circuit for help with grants. Also to the many people who gave voluntary contributions and those volunteers and helpers who have helped to create the garden.

For more information please contact:
Deacon: Jill Taylor
01270 618872
deaconjilltaylor@gmail.com
or Janet Spibey on 01270 624498