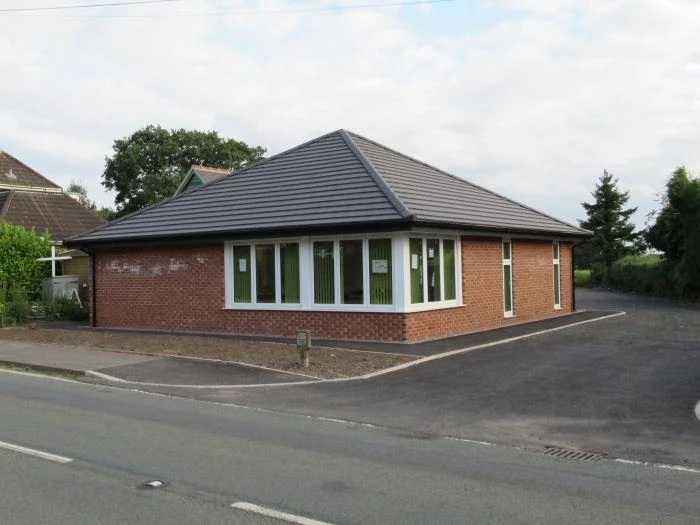 We are a community of Christians dedicated to serving our Father God, our Lord Jesus Christ and the community of Oakhanger.
As a joint congregation of Methodists and Anglicans we meet for worship on the first and third Sundays of the month at 6.30pm. On Easter Day and Christmas Day we meet in the morning for Holy Communion. We have a Ladies' Craft Group which meets on Wednesday afternoons. We have a house group which meets occasionally and welcome the community to all our events including the Christmas Carol Service and Harvest supper.
The church in Oakhanger has a long history. The first Methodist service was held in 1813 and the first Anglican service in 1873. For many years Methodists and Anglicans worshipped separately; Methodists on the present church site and Anglicans at St Luke's, part of the parish of Christ Church, Alsager. After many years growing together we have now come together as a single united Anglican and Methodist congregation. We are blessed by having a new building in which to meet.
Our Mission is to "know Christ and to make him known" by serving the community of Oakhanger and beyond, praying for and on behalf of the people, and welcoming them to our church, both for formal worship and less formal events. Next to the bus stop, we have a Prayer Cabin, which is open all day for personal reflection and private prayer.
The church is the home of the Oakhanger Project, which provides a range of outdoor and adventure activities designed to encourage and enable the physical, mental, emotional and spiritual growth and development of those taking part. Organised as a separate unit, it is an important part of the church family.
We welcome to our community all who love the Lord or desire to do so, or who simply seek the company of others.
Links
Oakhanger Project: www.oakhanger.org; Oakhanger Project Facebook Group
History: https://www.myprimitivemethodists.org.uk/content/chapels/cheshire/n-s/oakhanger_methodist_church
Christ Church, Alsager: http://www.christchurchalsager.uk/oakhanger.html