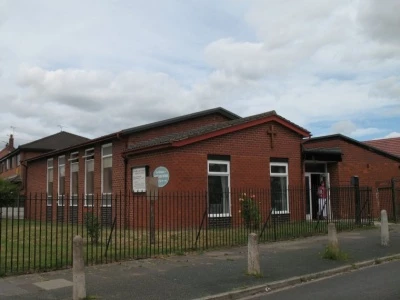 St Mark's: Christ at the centre of our community
St Mark's is a community Church in the Wistaston Green area of Crewe, on Bramhall Road, near Wistaston Academy (Primary School, on Moreton Rd). The church opened in the mid 1960s, and ever since has been committed to being a Christian presence in the local area.
Our mission is to love & serve the Lord Jesus Christ and share our faith with others.
We are committed to:-
To grow – through worship, prayer & bible study
To reach out – through new ventures, e.g. Summer outreach event, Community Carol Service.
To serve – with coffee mornings, supporting activities that meet on the premises, and be a good neighbour to people in need, and to challenge injustice.

Sunday morning worship, at 10.30am, is in a relaxed atmosphere, and typically about 20 people attend.
Sunday Evening gatherings are occasional, and are in the SofaChurch, a space affording relaxed, comfortable, surroundings, conducive to conversation, and times of prayer and praise. Contact the minister for more info.
During the week (see below) there is a range of Church groups and activities for all ages!
We welcome enquiries from people/groups wishing to use the building. Please contact the minister.
Our Church Weekly Programme
Sunday 10.30am Morning Worship, followed by tea/coffee
10.30am Young People's Church for children and young people
5.45pm, Revive, about every 6 weeks, shared with St Stephen's.
Monday 11.00am Bible Study, followed by shared lunch (monthly)
Tuesday 10.00am Coffee & Tea (to 11.15am). This time also serves as a distribution point for the local Foodbank.
Thursday 10.00am Bacon Butty Morning (to 11.30am, bi-monthly)
Friday 2.00pm Prayer meeting, term time
Various Days & times Dance Classes, for all ages
Please note: some of these activities are seasonal, and some are ran by organisations outside the Methodist Church.
For further information contact the Minister, Rev Jennifer Matthews, e-mail jennifer.matthews@methodist.org.uk tel 01270 501066.