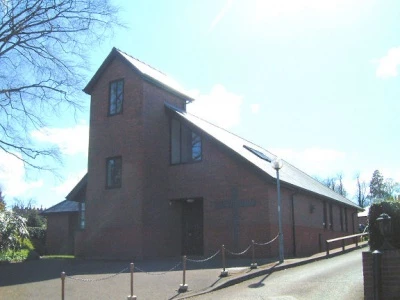 High Street Church is a modern building completed in 1995 and set in the attractive village of Malpas in the south west corner of Cheshire, close to the borders of Shropshire and Wales.
We are a lively congregation with an open and inclusive fellowship which is friendly, relaxed and informal with a heart for mission. We are also a fair-trade church.
Our main worship is on a Sunday morning at 10.45 am. Its style is modern, varied, collaborative and inclusive. There is always someone on hand to take younger children in their own time together. We hold weekly prayer and Bible study groups on a Thursday evening. Once a month we invite people both inside and outside the church to join us at a Coffee Stop. This is held on the first Thursday in the month, 10.00 am – 11.30 am. Every Wednesday, during term time, we offer a baby and toddler group to the community, 9.30 am – 11.00 am.
At various times of the year, we go out onto the street in Malpas to meet and greet people, often giving out not only tracts, but also bookmarks, stickers and sweets etc.
Each Christmas we hold a time of 'Carols round the Cross' in the centre of Malpas, bringing the message of Christmas to the village.
Every other month we are able to go into the local residential home to lead a short service.
A number of church members also support and volunteer at the local youth centre.
We are working towards more cooperation with other local churches, schools and youth organisations.
The church facilities are well used by a number of groups and organisations.